Services List
Our Advantage

Pharmekal provides many services that will put you on the path to success.  Our Sales and Marketing Team will provide you the information you need to capitalize on the worldwide growth in Human Nutrition.  Working with our Research & Development Team, we will lead you through our process to a winning product.
Research and Development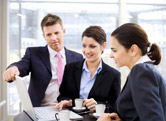 We combine years of Research and Development experience at Pharmekal and have an impressive list of clients. We will work with you every step of the way to make your formula a success. Formulation, technical support, trouble shooting and testing services are all there for you.

Marketing Support
Let our professionals use their international experience to nail down a foolproof plan and watch your sales soar. We will provide you with the marketing tools to make sure your plan succeeds.  Label Design, Marketing Plans, Brochure design, we are there for you.
Pilot Batches
Implemented in our facility at a fraction of the cost of a full-size development run, this unique service allows for bench-scale batches to be made quickly, speeding time to market, while using very small amounts of material. The equipment used is completely scalable; meaning success in the lab will be duplicated in production.

Laboratory Services
Our mission is to provide a one-stop laboratory capable of meeting all your testing needs, in a reliable and economical manner. We have the expertise and dedication to meet your needs and challenges. All testing and analysis is conducted according to official methods using state of the art equipment. Our highly trained team of scientists provide the critical mass needed to generate a dynamic service to satisfy the needs of you, our customers.

Sales Support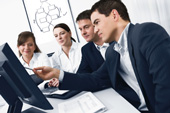 Competitive Pricing... We ensure that we can get you the price points you need. Label and Brochure Design... Our Graphics Team provides cutting edge labels and brochures to keep your sale on track and your customer informed. Volume Tracking... we keep records of all our correspondence to ensure that if you need past information to re-evaluate strategy - we will have it - all part of our sales support.